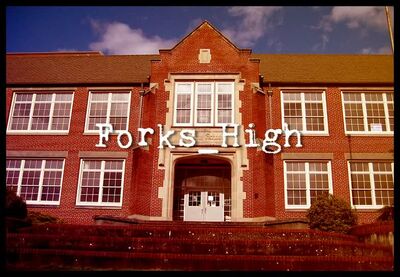 Welcome to the Forks High Wiki
[
edit
|
edit source
]
Welcome to Forks High, a Twilight-oriented RPG, alive and well since 2007! Forks High is set a few years after Bella's graduation from high school. We're essentially a post-Eclipse RPG, though we take some bits and pieces from Breaking Dawn. Many of the canon characters are off at college and new faces are roaming the halls of Forks High School. The players here are dedicated and innovative when it comes to creating plots and following through. We have introduced entirely new "universes" to the game - an entire plotline set in Romania, for example - and have expanded on some issues brought up in the Twilight books that were just touched upon. It's a really fun group, not entirely serious business, and gladly welcomes new players.
This game is so massive, in fact, that it required its own Wikipedia site. Most everything you need to know about the game and the characters can be found right here, though the pages are consistently updated to reflect current events and are a work in progress.
Disclaimer: We do not own the Twilight universe. All characters from the Twilight universe are property of Stephenie Meyer, and we do not own any of the locations mentioned unless we say it's our own. All original characters are creative and intellectual property of the players. Don't sue, we have no money.
Community content is available under
CC-BY-SA
unless otherwise noted.